Thursday, 14 July 2011
Not only Amazon (which I told you about in my last post) but also Ebay uses my web history. They send emails with a list where they specify what I looked at last time and they ask me if I'm still interested in these articles.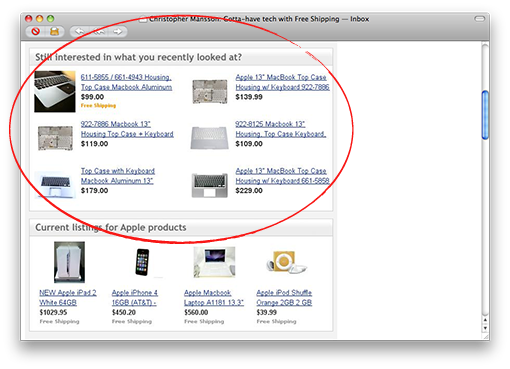 In this case I had checked out a keyboard to my MacBook.
An interesting detail is that their emails are dynamically built. In the encircled area in the email above the products change every time I close and open the email – the same email, mind you. It's not very common to see dynamical content in an email, especially where it's used in such an intelligent way. Ebay really uses this cleverly. The disadvantage here is – I have to say – that everything is laid out as big pictures.
Ebay's individually adjusted emails get three hearts out of five from me.