Monday, 8 November 2010
I have to admit, when we change the design or attitude and sound of our newsletters, I get a little worried that our readers won't recognize it or feel at home, and I don't want to lose them. eROI News is a great example of how to get around this.  (Assuming that your newsletter isn't an ever-changing one.)
What eROI News does, is they make a big deal out of the changes that they make.  They then tell the reader why.  It's that they want to give the reader an ever evolving experience into something better.  eROI News wants feedback.  They want to know what their readers think of what they write.  They want dialogue, not monologue.  And that's why they're pouring more energy into social media.
Take a gander at the different designs: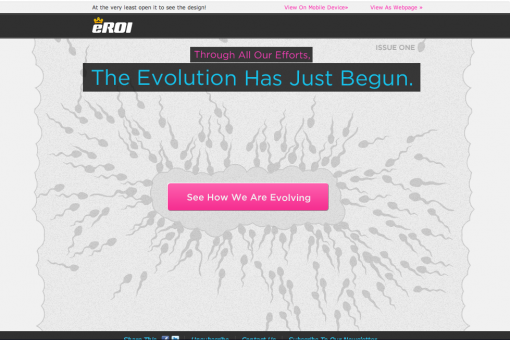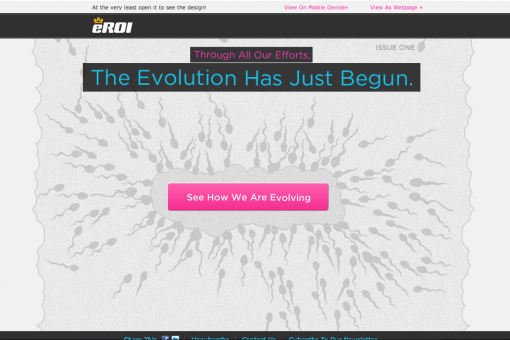 The picture above is actually four different parts that are stacked up on each other.  Just a gif animation.  So the little sperms are wiggling wildly on the page, and your curiosity is killing you.  See for yourself HERE.
Isn't it awesome with the header across the page?
So when you click the link (which is obviously and irresistibly the only choice you're left with) you come to this page: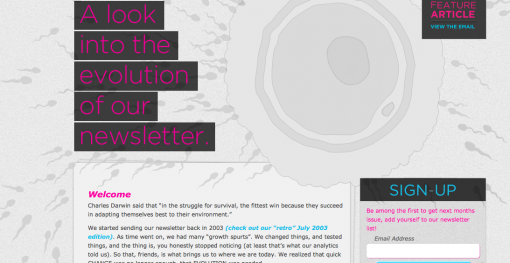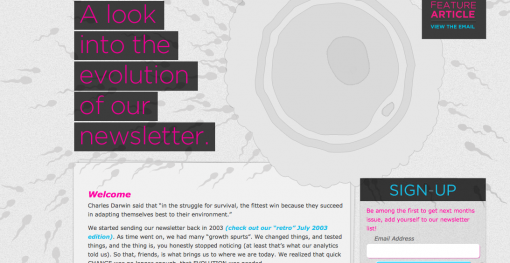 Click on the picture and read it, it's pretty great!
The fact is, when you send out a newsletter that's very similar in design and content month after month after month, sometimes it's just a good idea to break it all up and try something totally different.  Give it some new content.  But this doesn't mean that you just send one more newsletter.  It means you replace a newsletter.
eROI News kept me reading to the end.  And I'm pretty busy tonight.  They are completely honest with the fact that too many readers have lost interest in their newsletters. But this is all said positively – they want your attention by evolving the letter around us and for us, the readers.
So, If you decide to make the change, don't trickle in the changes little by little.  Drop a bomb on them, blow their mind.  Make them feel unique.  Show them that the change is for them…  (assuming this is the case).
Anyway, I really liked this.  And I like that there's a lot of thought and energy behind it, for me, a reader.
The only minus is, that if the pictures are blocked… you see nothing.
Four wonderful hearts out of five.