Wednesday, 6 October 2010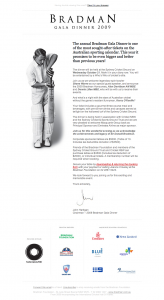 Personally, I prefer stylistically pure and "unrefined" newsletters and e-mails. I honestly don't mind if they are just in black and white, maybe with one or two stronger colors that pop out from the rest. This invitation to Bradman Gala Dinner 2009 is really clean stylistically. It's also signed with a personal signature, which I think really enhances the quality.
We give this invitation 4 out of 5 hearts.