Saturday, 27 August 2011
Confirmation is not an easy thing. I mean, what can you send back to the customer more than a confirmation? Is there anything else you CAN send? If so – what and when?
Many ready-made web shop solutions don't seem to offer possibilities to adjust receipts. No, you have to go in and write codes and build it yourself. If you have the opportunity to get some help from your e-mail service provider it's a good idea to accept it. Too simple receipts with limited possibilities to apply additional value or extra information about the order can really bring down the shopping experience for the customers.
But with Amazon the customer can feel safe. If you once created an account and placed an order with Amazon you can be prepared for an easy buying experience. Their receipts are detailed and you always know what you get. Sometimes though they can't send a certain product from the UK to Sweden, which means that you have to visit another web shop – maybe one you've never visited before, and one that isn't Swedish. In that case it's extra important that you feel secure.
Here are my latest mail receipts. I chose a shop in random, since Amazon couldn't deliver what I wanted. It happened to be Peter Burrowes in London.
There are mainly three things about Peter Burrowes' mail receipts that I like.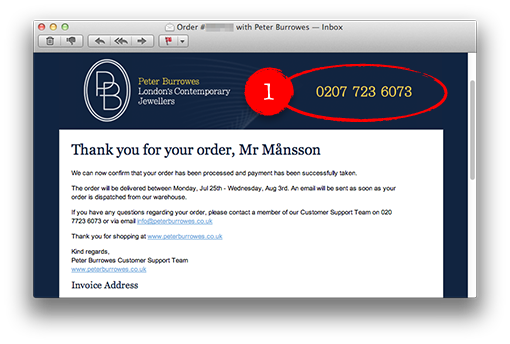 1. It's very clear how to get in touch with them. The telephone number is placed in the header, big and clearly visible. It sticks out more than anything else in the e-mail. Nevertheless, they even repeat it in the text, in case I missed it.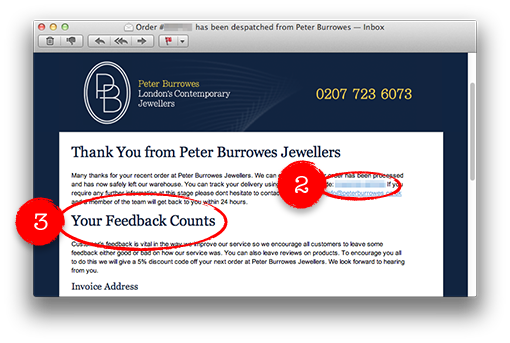 2. Very soon I get another e-mail telling me that they've now sent my order and they give me a tracking number in a ready-made link, which I just click on to get more information about where my parcel is right now. I don't have to cut and paste information from the e-mail to the tracking page.
3. They encourage me to mark my ordering. My view point is appreciated, regardless if it's negative or positive. They offer a reduction of 5% with my next order if I tell them what I think about my shopping. This is a really creative way of increasing the number of customer comments. They are probably well aware of the fact that all types of customer commentaries will increase sales – also the negative ones.
My buying experience was good. It was very simple to order and I didn't have to register an account. The delivery was very quick indeed. London – Malmö in two days is impressive.