Tuesday, 20 December 2011, 7:18 PM
A Good Mail Flow from Carpetvista
When I shop online I want a certain amount of security concerning payments and delivery. I believe there are more people feeling like I do. One of my online orders was confirmed and I was told it was sent two weeks ago, but it hasn't turned up yet! But now I got a link by e-mail so I could track the goods, which means that I now know it did move four days ago. Far from all e-retailers give their customers tracking links with their e-mail receipts.
CarpetVista in Malmö, selling carpets online, inform their customers in a good way, though.
Apart from the detailed product information on their site, their e-mail confirmations are good and confidence-inspiring.
This is how they look:
As soon as I paid my carpet there was a detailed receipt in my inbox.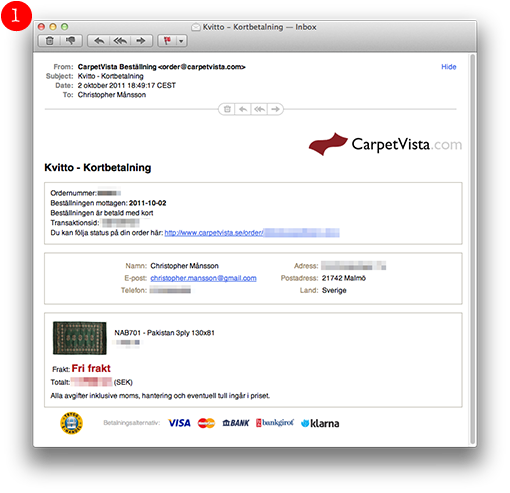 The day after they sent the carpet and I received another e-mail telling me that my carpet was on its way. Attached was a link so I could track my package.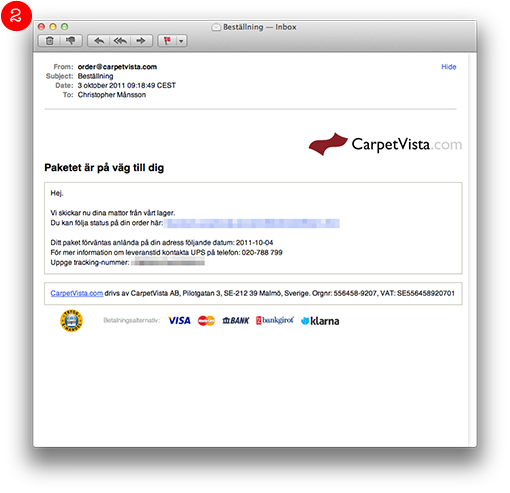 The following day UPS deliveed the carpet and the same day there was another e-mail with this piece of information:
Thanks for your order. You have now received your goods and we hope that you are perfectly satisfied with your carpets and with our service.

We constantly struggle to improve our customer service. Your points of view are extremely important to us and we would like to take the opportunity to ask a couple of questions. We would be very grateful if you would give us a few minutes of your time.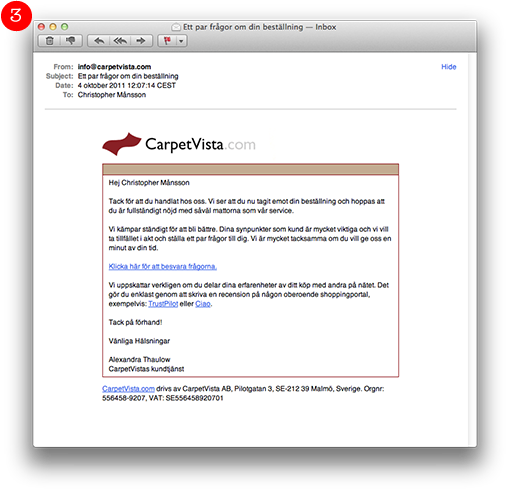 I think that the logistics of CarpetVista is very good and they make you aware of it by the use of e-mails. The buying process is secure and thorough.