Wednesday, 27 July 2011
If I had to choose just one tool to complete e-mail marketing with I would choose Twitter. So here is a simple Twitter-tip:
Check this connection out and reflect on what links you tweet. Are they relevant for your site, your business, or your blog? And remember that it isn't your friends only who use the links.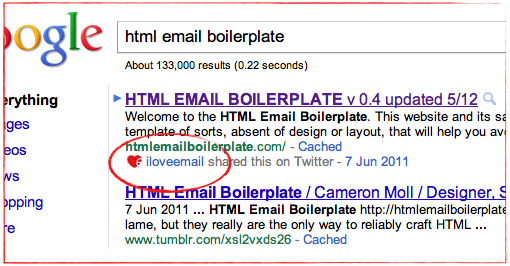 In this case we are on the top position on Google when you searched for "html email boilerplate" first week in June. Not because we really are in superposition, but because we have tweeted the top position. The top position is extremely relevant for our blog – and gives us relevant visitors.
We often talk about relevant e-mail marketing, but naturally it's about being relevant in all channels.
Supplement: I have to mention though that I don´t really know how Google connects this; it might be that only people in your circle of friends share these extra search hits. But in any case it´s very valuable.