Wednesday, 14 September 2011, 6:20 PM
Email Is Alive and Kicking in Boston!
I'm in Boston at shop.org and I'm doing my best to listen to all the seminars. In general I guess you could say that we in Scandinavia are wrestling with the same problems as the Americans when it comes to email marketing. Most e-retailers don't experience the same positive figures in opening frequency, clicks, and conversion as we did a few years ago. 95 % of the Americans have their pictures blocked – according to Ryan Urban at Acquisition. Social media seem to have gathered most of the attention here also – and email hasn't really been regarded as a social medium, although it is really.
Stefan Tornquist started his presentation with a question about how many in the audience wanted to have "Facebook likes" rather than their customers' email addresses. I think the answer is pretty self-evident. Of course we prefer their email addresses. I liked that introduction very much; we didn't have to waste any more time declaring the impending death of emailing. As you can understand the topic of the day is emails and for the very first time in months I think I heard some new things… Well, not that many new things, but still… 😉 Something that we've heard a lot here is that emailing is what drives conversion! Everybody really acclaims emailing here.
Here are some points I'll bring home:
The header or title of the newsletter should be shorter than we've said before. Not more than 30 letters, absolute maximum is 40 letters – blanks included. Quite a few e-mail clients cut off a text longer than approximately 40 letters.
Convince your customers that your newsletter isn't spam. You gain trust by using a well known sender name in combination with telling why you make this contact.
Work with bottom navigation. Often you might send a newsletter containing products that aren't interesting for all your customers, but maybe they want to visit your site to check on something else. So make it easier for them! Bottom navigation often results in an increased revenue. Do consider all navigation in your letters. Bloomspot is a good example to show that where there are pictures with Alt-text, the traffic is most intense.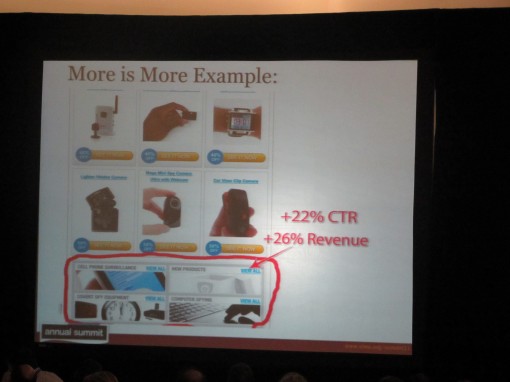 In A/B tests there havn't been one single example showing that the longer letter looses in any way compared to shorter ones. Interesting, isn't it? So, long letters are something you can use. But the readers behave as they were reading a list if the letters are long. They read the first parts and the last ones. Something to remember!
When it comes to design and structure of a newsletter we often look at bigger companies. Don't do that any more! Because the big companies are often the ones that handle blocked pictures in the least effective way. Amazon and Walmart don't have Alt-texts that tell people to download the pictures, for instance. You should always add a link "Check our offer" or "Read the letter with pictures" in the mail itself in order to enhance the chances of the readers downloading the pictures. We looked at 3 examples: AppSumo, Bloomspot, and Groupon: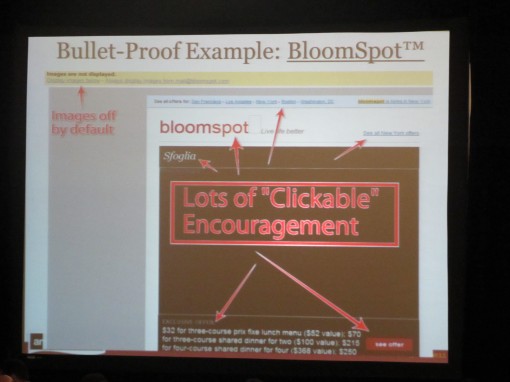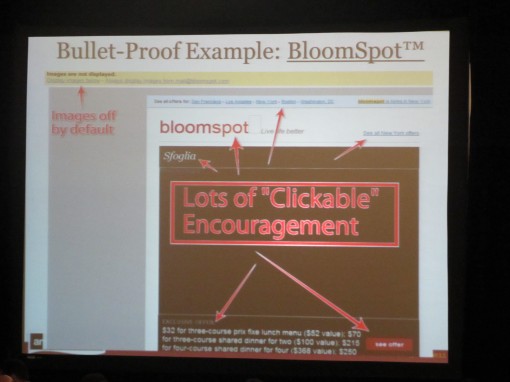 One way of collecting email addresses is to use a neat pop-up window when the visitors are visiting for the very first time. Ask them for their email address and offer them something in return. In this way you can also send them: 1. An abandoned cart-email, 2. An abandoned site-email. See? The Americans know how to sell. 😉
Follow the subscribers when on your site. Where did they leave? On the landing page? What can you do to make them buy? Email subscribers are generally spending more time on your site than ordinary traffic.
Make tests of one thing at a time and do it in the right order. Here is an example of an order in which you can test various things: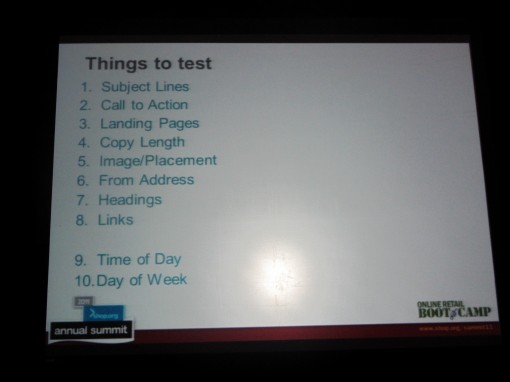 This is a little sample of what we're talking and hearing about here in Boston. Now I'm off to next seminar. (Just one more thing: I do like to be a princess again! Some time ago it wasn't so cool to say that you were working with newsletters. The thing to be doing was about social media – then you were the princess. But see, now I'm back! How I love Boston!)