Monday, 10 January 2011, 12:58 PM
I Now Pronounce You: Email And Social Media
I'm tired of talking about whether or not email is still king, that is to say, king of all other channels. Will Twitter completely take over the world? Or will Facebook rule as Caesar and be the only thing you should bother investing any time in?
Does a carpenter love and cherish solely his hammer? Is it the only useful tool he has in his little toolbox? No. It's the same for all the email and social media advocates. We have to put some energy into trying to understand how email combined with social media and other channels can climb new mountains.
So you know that I'm not lying, I'll illustrate what I'm trying to say. Look at the cool figures below. Nilsson E-Handel pointed this out a while ago through a survey from eMarketer.
The fact is – and this is indeed a fact – whether email suppliers want to deny it or not, very soon other social networks, other than email, will become as popular as email when it comes to sharing stuff with your friends. If you ask me, I'd say that Twitter and Facebook will probably pass emailing in the very near future. To share with Twitter or Facebook is now just a click away. One single click, and you tip off as many people as you have friends.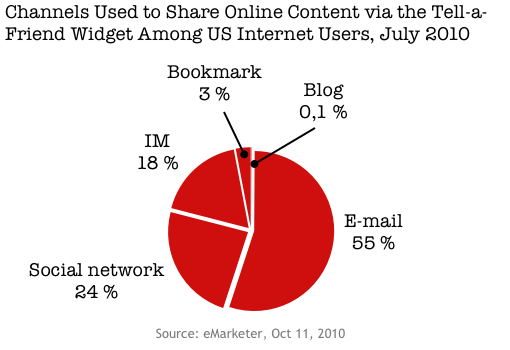 Interestingly, there are more people "listening" to tips and posts via Twitter and Facebook than there are to email. What I mean is that, more people click on the links with social media than they do via an email. Which makes sense though, Facebook and Twitter are public, exposed to however many friends you have. Quite logical.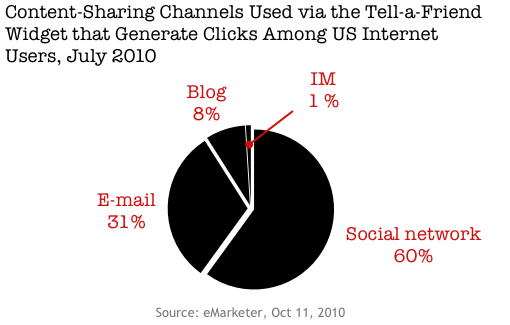 Nilsson also points out figures showing that email is still an extremely effective channel by saying: "Investigations show that users that entered through an email had a higher completion ratio and they spent more time on the target site than those who entered via social media. So good ol' email is still the best when it comes to sharing."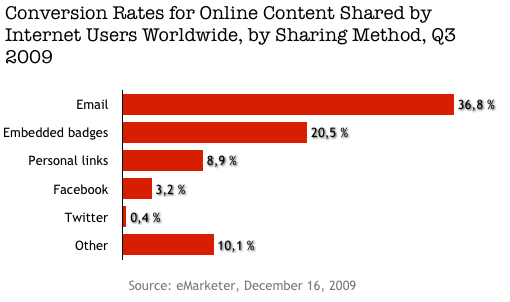 Any great carpenter knows when, where and how to use his tools. So, you email social media marketing carpenters out there need to learn how, when and where to use all of the channels. To reach the majority of our customers, we need to behave like our carpenter, knowing when and how to use all of the channels in the right moment and place. Email in itself is not the best, but marrying it with Facebook, Twitter etc., you create a powerful monster.
Sarah@@@@@