Tuesday, 23 November 2010, 1:57 PM
The Good, the Bad, And the Annoying… Email Offers
A little while ago, I got an offer to sign up for the newsletter of a big Swedish newspaper.  This offer has come four times now. But, it wasn't until the fourth time (the subject line said "Last Chance") that I realized it was the same email that they kept sending over and over again.  It was also my "Last Chance" the third time.  Sounds pretty desperate, what do you think?
Amazon sends out offers too, but they are satisfied with surfacing just once in your inbox.  But, when they do, they have something interesting to say without neon Las Vegas price tags.  They just put the winter necessities in the spotlight – good shoes.
So, a nice picture married to the main message – "Free Standard Delivery to EU Countries", which is written twice for your fading short-term memory.  I'm guessing I'm getting this email because I've bought shoes at Amazon before, so they keep track of what I've bought – and to me, this makes a difference as a customer.  Now I know I can get around those miserable shipping costs, which is usually the biggest hurdle when it comes to ordering from overseas.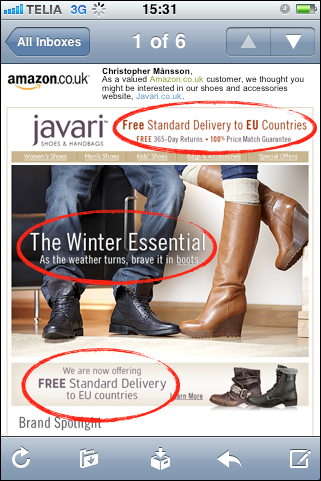 3 strong throbbing hearts for Amazon's newsletter!

If only we had black hearts, then I'd give 2 of them to the Swedish newspapers' newsletter.