Sunday, 9 October 2011, 11:21 PM
Autumn News Is Here, But First You Must Decode It
In comparison to one of Sarah's last posts, where she shows off snazzy examples of good alt-text usage, I'll be showing off some examples that are not so flattering.
This newsletter made it's appearance in my inbox recently, it comes from a large department store here in Malmö; I won't be saying any names this time around. For this example, they're lucky most email clients block images.
It's not unheard of for us to go through email without an internet connection, and naturally, the images from a newsletter will pull a no show without one.
Here's our newsletter example, without its WIFI-enhanced clothing:
Behold! A giant gray box, cute blue boxes therein and strange cryptic code scattered throughout.
In the header:
DVR 3005781
Prispassnr.:
In the footer:
G09-1-1
Does this code mean anything to me? Why do we communicate with our customers like this?
I don't know how to break it to you, but, this is not good.
I think the problem is that many companies, oddly enough after 40 years, still do not understand that email is a communication channel. They see it solely as an advertising medium and believe that an attractive product image will do the job.
Allow me to exaggerate for the sake of a point. Check out my new Twitter profile below. I've updated my profile picture, and I'll be tweeting irrelevant code from now on. I'm trying to get more followers.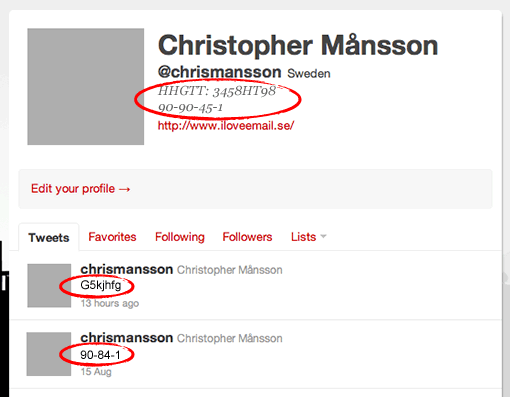 Do you see my point?