Wednesday, 24 November 2010, 2:48 PM
I just have to show you this. I found it at Campaign Monitor and I couldn't resist, I had to go and sign up for their newsletter.
"Iceland Wants To Be Your Friend" is the name of the website.   As you've probably figured out by now, the purpose of the website is to get people more interested in this curious little island in the north – and to visit.
They have a pretty stripped down and textual design that they coat the website, blog, Facebook and all the rest with, have a look:
This is their Facebook Page, look at all that courier: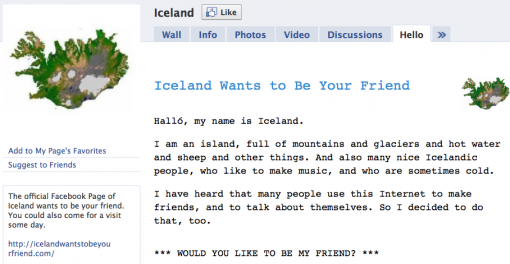 Unmistakably well thought out.  And the same goes for their welcoming process for new subscribers via email.
On their blog under the "People" and "Places" tab they have a very obvious box to the right explaining how Iceland wants to be my friend.  They ask for three things: name, email, and where in the world (literally) I live.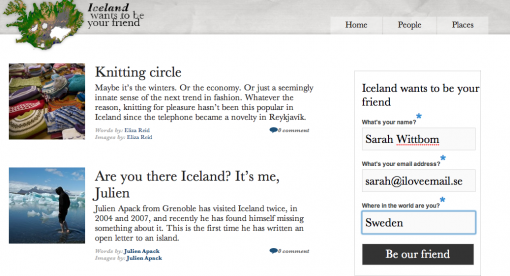 When I signed up, I got this: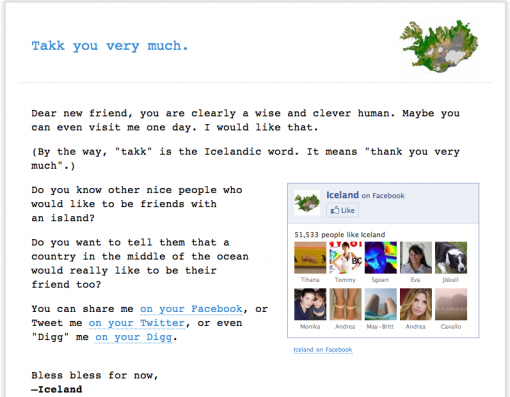 So far, there isn't the slightest slip in humor.  It's all been in the same funny uniform.  "Iceland" then makes an appeal that you can't refuse, that is to help "him" find new friends.  And they make the process pretty easy.
So, how does their welcome email look?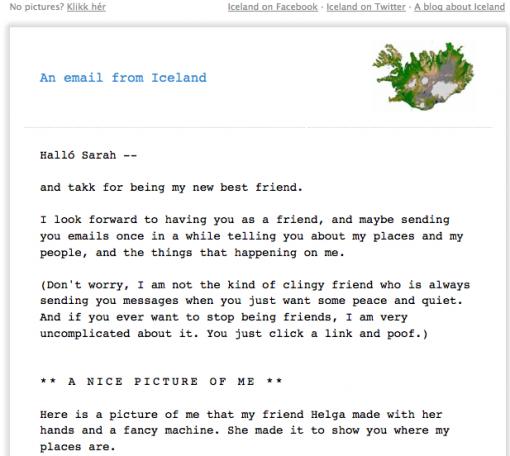 In the same entertaining and personified way, they talk about their little island in the middle of the ocean.  They also explain that they won't be that clingy and irritating newsletter buddy that invites themselves into your inbox all the time… without bringing anything.  And of course, they joke about the volcano that messed up Europe's airlines in the spring of 2010.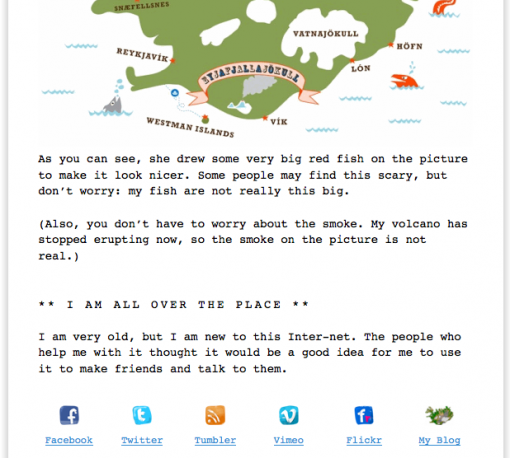 This whole idea, is very unique.  It makes Iceland the friend you never had.  You now want to visit it, call it, and post on its Facebook wall.  And I like how they sprawl out the different ways you can interact and discover them.  But of course this is two sided tape, the other side is they want to keep in touch with me.
A nice example to say the least.  I've actually been to Iceland – and I wasn't that impressed.  But after this, I think I'll give them another chance.
You can see the whole thing here.
Sarah@@@@@