Tuesday, 13 September 2011, 9:24 AM
I promised you some time ago to look out for a few neat examples of unsubscribe buttons or links. Well, I have to admit that I almost regretted my overhasty words, because it wasn't easy to find examples where someone had put a little effort into creating something new and classy.
Mostly the unsubscribe buttons are placed at the bottom of the letter and often in a very small font or in differing color. So, like I said: It was definitely difficult to find good examples of this particular function. Look at these: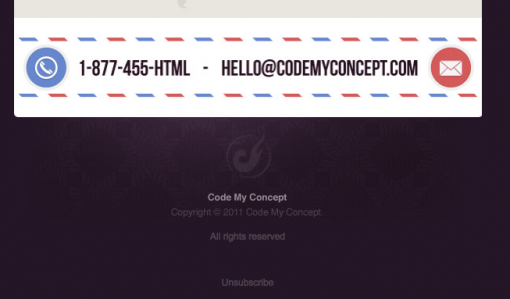 Can you read the text about unsubscribing? It's hardly visible! To me this is incomprehensible! Why on earth do you want to hide it if you've taken care of all the e-mail addresses in a correct manner? Do the customers buy more from you just because they don't find the button? Of course not! No, they are annoyed every time they receive your newsletter and they probably regard your company as being a non-serious business.

The same goes for this one: A text that's hardly visible at the very bottom.

The solution above seems to be increasingly common. They tell the recipients why they get the newsletter and then they tell about the possibility to unsubscribe at once. This is how a serious company acts. They want to give their customers control and security.

I have a soft spot for combining the unsubscribe link with the "Contact us" information – and also with other necessary links. Above you see an example of this – although I feel that the text is a bit too much. But I'm still convinced that the readers quickly will find the unsubscribe button since it's so close to other important information.
Now – here are two really, really good examples:

Would you dare to put the link in the preheader? This is truly very well done and I'm convinced that they don't have that many unsubscribing readers thanks to the position of this button.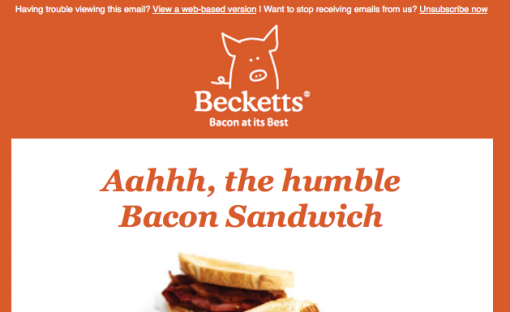 In this case the unsubscribe button is placed after the web-based version, but still in the perheader. Yes, they've given the reader control!
Now I'll show you the best one!

And I'm so happy that the best example I succeeded to find is – in fact – Swedish and from Malmö! My sister sent me this newsletter and we agreed on the beauty and simplicity of it. The location of the "Avregistreringsknappen" (the Unsubscribe button) is great; it's in the midst of other important buttons. It's also expressed as a picture à la "app-thinking" and in text to be as clear as possible. There's just one minor negative: I couldn't see any alt-texts in my Mac mail since the pictures were blocked. But apart from that I make a princess curtsy for the Malmö Opera today.
If you have any other examples – good or bad – please share them with us all on our Facebook page! Or do ask us what we think about your unsubscribe button. Maybe, just maybe, it'll result in more registrations. 😉
Sarah@@@@@